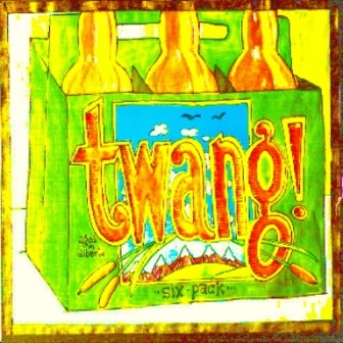 Six Pack was recorded by Steve Loree at Vincent Henry Systems in Edmonton, and features Twang! A bluegrass-swing band with John Gorham, vocals and guitar, Mike Bunting mandolin, Cam Neufeld fiddle, and Solon McDade, bass, their infectious, good-humoured take on old and obscure country tunes, combined with adventurous improvisation, won them a strong audience following in the alt. country scene. This EP was recorded mostly live-off-the-floor, capturing the energy and spirit that makes these guys so much fun.
"They think we're authentic because we're old" Mike Bunting
"I keep forgetting Gorham can really sing' Wes Borg – Three Dead Trolls
"These guys are great! Listen to them before midnight when they fill up on beer" Mike McDonald – Jr. Gone Wild
Joining the boys for this recording were Maria Dunn and Dawn Anderson
1. Sleep With One Eye Open
2. Money to Burn
3. Train Carrying Jimmy Rogers Home
4. Going Steady
5. I Know My Baby Loves Me
6. France Blues [mp3]
Commenting is closed for this article.