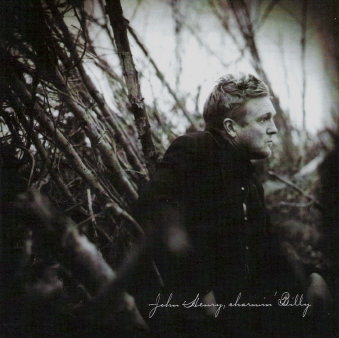 Charmin' Billy, is the debut CD of the John Henry band, recorded by Scott Franchuk at Riverdale Recorders in Edmonton, Fronted by ex-Twang! catalyst John Gorham, John Henry includes a stellar cast. Guitarist and steel player Chris Smith, fiddle player Cam Neufeld, bassist Thom Golub, and drummer Dwayne Hrynkiw bring a free-wheeling excitement to Gorham's songs. Each of these musicians has recorded and toured extensively. Cam, Thom, and Chris each have recordings of their own compositions. The John Henry band brings a contemporary brand of honky tonk and country swing to the music scene guaranteed to rattle the rearview and make you reach for the bourbon… " which I'd bet good silver is about to make a big splash " – Fish Griwkowsky, Edmonton Sun.
" The warmth and familiarity of Charmin' Billy comes from its simplicity, a quality that's evident right from the first track 'Spoilin'." – Jenny Feniak,
VUE
weekly.
" The excellent disc immediately joins the upstart ranks of the best works of Old Reliable, Corb Lund, and the Swifty's. Like the highlights of those, Gorham's personality comes out as strongly as his sandy voice. It's a great album, with a lot of maturity, and a lot of winking immaturity to make it interesting." – Fish Griwkowsky, Edmonton Sun.
" John Gorham is the Gram Parsons of Canadian country, creating intricate new music from the roots of the past " – Annie Clifford, Penguin Eggs
The John Henry band is joined for this recording by guests Maria Dunn, Mike MacDonald ( Broadband, Jr. Gone Wild ), Joanne Myrol, 'Duke' Paetz, Terry Morrison, Shuyler Jansen ( Old Reliable ), Rachelle Van Zanten
( Painting Daisies ) and Scott Wicken.
1. Spoilin [mp3]
2. C'Mon Home
3. Orphan Lake
4. I Like…
5. Dirt Track [mp3]
6. Orphan Reprise
7. $50 Whore
8. Mascara Dawn
9. Destiny
10. Watchtower Waltz
11. First Light
12. Personal
13. Play the Harp
14. Let's go on a tear
15. Aryan Nation
Commenting is closed for this article.